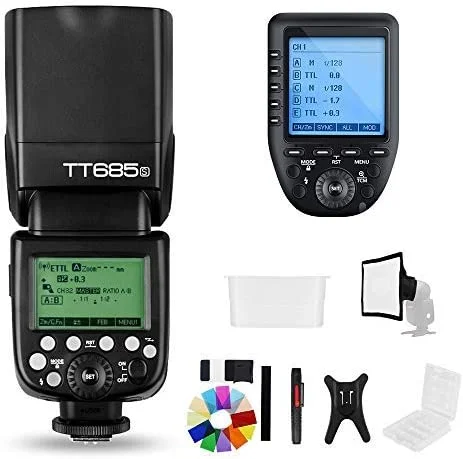 1 / 1
Exposure Control System: TTL Autoflash and Manual Flash,Wireless Flash (Optical Transmission and 2.4G Transmission)
Sync Mode: High-Speed Sync(up to 1/8000 Seconds), First-Curtain Sync, and Second-curtain Sync.
Godox TT685S TTL HSS GN60 Speedlite Flash for Sony A7 II,A7R II,A7S II,A6300,a58,a99,ILCE6000L,etc
TT685S is compatibe with Sony Wireless Lighting System(WL). As a mster unit TT685S can control Sony cameras flashes e.g. HVL-F60M, HVL-F43M and HVL-F32M via wireless. As a slave unit, TT685S can be controlled by wireless signals of Sony camera flashes e.g. HVL-F60M, HVL-F43M and HVL-F32M.
Kindly Note that Focus Assist won't work for Sony mirrorless cameras. Whether the Focus assist works dependes on the camera actually. For mirrorless cameras such as ILCE6000L A7RII,Focus Assist Beam will not work even with Sony Original Flash.